Africa and its diverse regions, dimensions, countries and cultures hold vast potential for business.
With a growth rate of more than 5%, Africa accounts for nearly 15% of the world population, an average annual GDP of USD 671, and 2% of the world exchanges.
Yet Africa's unique business ecosystem is widely unchartered and untapped.
Because success in Africa depends on a company's ability to be flexible, to be adaptable, and to be able to execute.
It requires targeted action plans with a strong field presence, along with a deep understanding of the market, keen insights andacumen, the right instincts and smart strategies.
Success takes real African common sense.
Something found uniquely with Riff Edge.
We exist to deliberately create sustainable growth to empower an incredible continent.
We aim to be the premier business growth partner for Africa.
At Riff Edge we are dedicated to helping our partners by:
Services made for Africa.
At RIFF EDGE we apply a practical logic, coupled with acumen and deliberate purpose, to Africa's unique opportunities. We offer three key services to our business partners: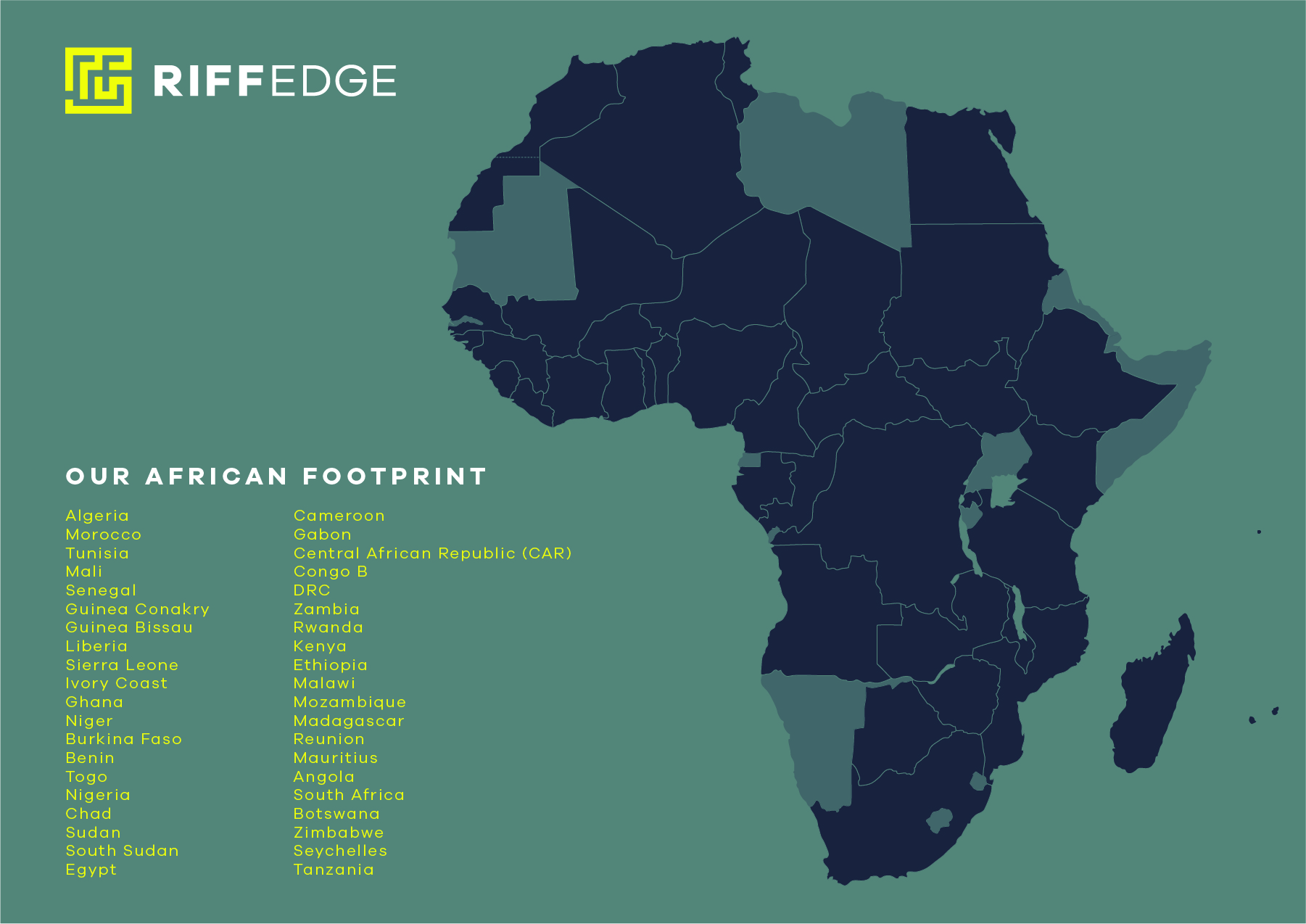 Front Line Services
For companies who have limited or no activities in Africa, and who wish to build presence and business.
Read more.
Go-To-Market Services
For companies who have activities in Africa and need support on specific and recurring action points.
Read more.
Blitz Insight Services
A short duration and intensive go-to-market service for companies who need urgent support on specific action points.
Read more.
Accelerating progress and reducing risk in Africa.
With more than 15 years of experience doing business in 40 African countries, Riff Edge has real, on-the-ground, instinctual knowledge of Africa. Upholding the highest standards of integrity and respect, we are dedicated to growing your business in A frica by delivering measurable impact and revenue growth.
You can rely on our African sense to:
Determine a deliberate approach to support African growth
Build readiness to take up the Africa challenge
Considerably reduce time to market by enabling our customers to be African market ready faster
Create targeted feasibility studies
Determine who the key players and game changers are in selected regions/countries
Define strategies and winning approaches in select market
Build and implement specific action plans
Help in building a steady business pipeline with in the field actions
Help in generating revenues
Engage relevant partners/distributors for our clients
Riff Edge works with carefully selected professional service partners who bring added value and expertise to our offering.